June: 1st week -Dan Graduated with his Masters in Counselling; 2 older Girls went to camp for a week. (I think that was my last major blog post). and
1st & 2nd week: Son had Scouts, and Swim lessons for 2 weeks. He assisted on an Eagle Scout Project one weekend. Had his usual Counseling appt, and we added OT for Son and my girl friend went on vacation and I had to watch her kitty :)
3rd week: Case Manager added. OT, Son Pack for Summer Camp (and mom buy all the things on the list that had to go...) and they left that Fri. (21st)
4th -- Wooohoo!! Son at Camp!! I take my "week off from Girls" (just so we have one week without kids during the summer). My Mom came back through that week for her visit on her way home (For 3 days) I had Surgery on my hand to release a trigger finger on the 27th. And had to limit showers for 3 weeks (YUCK YUCK YUCK!!) Pick up the kid from Summer Camp on Sat the 29th.
-- Add in there multiple visits for the Dentist and braces...
July
1st Week: Braces, Follow up on Hand Surgery... 4th of July was quiet around here as usual, as Dan being a Veteran doesn't care for the fireworks, as they remind him of bomb blasts.
2nd week & 3rd week -- began Chaos: We added to all my kids' schedule, AIT (Audio Integration Therapy/Training) which was 2 weeks straight M-F ~2 - 30 min appts at least 3 hrs apart. Swim lessons for Son (Girls had swim team, but their mom and step dad took them to that thankfully!) Dentist appts. The standard Case Management, Counselling, and OT, and Met the NEW Therapist for Behavioral Therapy....
Then we left on the Scout Family Campout on the 19th to the 21st. -- Notice I said "WE" yes, Seth and I both went on the campout. Had fun, but wasn't too rested due to no cpap/electricity.
4th week: The standard Schedule of Counselling, OT, Casemangement, Scout meeting, and more Swim lessons.
AUG
5th/1st week: Counselling, OT, Braces, Swim lessons, Scouts, And I helped a Teacher Friend of mine decorate his classroom door.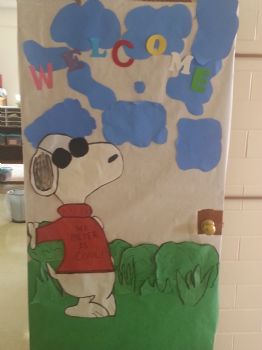 2nd week: Had a Massage with Lacy- who's Boyfriend had to go out of town (one who took me on vacation last fall). Behavioral Health, Parent Orientation - for Charter School. Babysat Lacy's Apt. For the Phone company to come while she is work. Seth has SLP Eval (and qualifies for Therapy -- YES I am CRAZY I ADDED another weekly appt to my schedule!!!) Along with OT, Counseling, Case management and Scouts.
My other "Perk" is we hired a Maid to start coming to our house 2x a month. -- This was awesome to have clean floors etc.... The next day - Room mate decided to start going through her stuff and brought box by box into the house from the garage -- and we had chaos in our front room for 2 weeks while she decided what needed to be sold, ebayed, craigslist etc.